WHY A NEW HEADSHOT IS MORE IMPORTANT THAN EVER NOW IN 2021
                                        Words of wisdom and experience by Sarah Merians

Since we basically live our entire lives both professionally and socially online now…an exceptional headshot is so important.  These difficult pandemic times also have silver linings if you look for them.  We have all spent a lot of time at home.  Some of us have learned to cook better, eat better, exercise more and become more spiritual and connected with our "new selves".
We may now be thinner, more "fit" and in general a lot happier with how we feel.  In many ways, COVID-19 has given us time to better ourselves.  Do you feel different about yourself now?  If you answered yes, it is time for a new headshot that reflects and captures the "new you"!
Whether you own a local small business, are a lawyer, doctor, real estate agent or a global marketing agency it is so important to have a "face" of the business and to share on your website or social media platforms.  People and customers today want to see who they are working with to form a connection with you and your brand.  Your online image should capture your personality, your essence – how you feel about yourself today…not just how you physically look to viewers.   We want to capture your strength, authenticity, and your genuine self!  This new headshot may get you a lot farther in your career.  We are here to help!
We will attempt in this article to share our expert advice for a successful new headshot.
We will be discussing:
How and where to use your headshot
Clothing suggestions
Tips for a great headshot
Studio vs. location
Retouching
Pricing and budget
COVID-19 restrictions
 HOW AND WHERE TO USE YOUR HEADSHOT
When you stop and think about having an amazing headshot that you love of yourself…you will want to share it all the time!!  Put your best face forward and have new people meet you!
– Linked In profile / content
– Facebook profile / content
– Instagram profile / highlight buttons / content
– Telephone contact photo
– "About us" section on your website
– "Meet the team" section on your website
– Email blasts
– Advertisements
– Marketing and promotional materials
– Pricing guides
– YouTube header
– Business cards and/or digital signature
– Book jacket
– Even your dating profile! 😊
CLOTHING SUGGESTIONS
Clothing suggestions vary based on use of image.  For professional headshots for lawyers, real estate brokers and doctors we suggest professional dress: a suit and tie for men, and a blouse and blazer for women.  Some financial and law firms are capturing a more casual look these days without a tie as well.  We suggest asking your Company what their requirements are.  We also advise changing into a casual look to add options for other use like "About us" or Bio pages on websites.
We feel the most important decision is selecting a color that compliments your hair and eye color and will have you feeling and looking your best!  We strongly recommend a shirt for women that has nice lines and shape.  In these COVID-19 times we have less opportunity to adjust your clothing because of social distancing.   We want to stay away from wrinkled clothing that will need more retouching.  Solid shirts for both men and woman are recommended because the image should be about you and your face.  Patterns and stripes are distracting and will take away from people seeing you.  Keep it simple.
The variety of headshots you will select from should be just that.  You want a good selection to choose from and moving you around and capturing different angles, sitting, standing, with glasses and without is what we strive for.  The clothing should add to your comfort and not be distracting.
In conclusion keep your clothing uncomplicated and classic.
Here is an example with tie, no tie, glasses, no glasses, etc.
Here is an example of multiple outfits:

STUDIO/BACKDROP OR LOCATION?
There are three kinds of headshot backgrounds.
The first is a studio backdrop.  Many professional offices and hospitals require a solid studio background.  Some have their own in-house studios and will offer this service to new employees.  During COVID, we have been a custom alternative for them. Scheduling a time slot at these locations is often difficult and limiting.  Clients have hired us because they do not want to miss a half day of work, or just are not happy with the safety of the place – there is typically a high volume of people and so these locations are not necessarily safe or private.  Our studio provides seclusion and time, a less stressful experience and, as a result, a better finished product!  We suggest a modern white backdrop for a fresh and clean look that is versatile in its applications.
Some companies have specific requirements. NYU Langone for example uses gray back drops for their medical headshots.  We have a selection of colors and backdrops in our studio to accommodate all needs.  We love a studio lit portrait with a solid backdrop.  It is very professional.
A popular and new trend is on-location (vs. in-studio) headshots that are taken in an office environment or outside.  We love capturing portraits in unique environments.  They are less rigid and produce relaxed and creative headshots that are often more dynamic and expressive.  We suggest capturing a few looks in different locations so that you have a variety of looks for use.
Linked In headshots do not have any specific requirements for background.  We feel the type of business will dictate the backdrop for your headshot.  The one important requirement for a great Linked In photo is allowing enough room around subject.  Regardless of your backdrop it needs to fill the Linked In circle.
We are here to advise and guide you with this important decision for your professional headshot!
Here is an example of in-studio with clean white backdrop: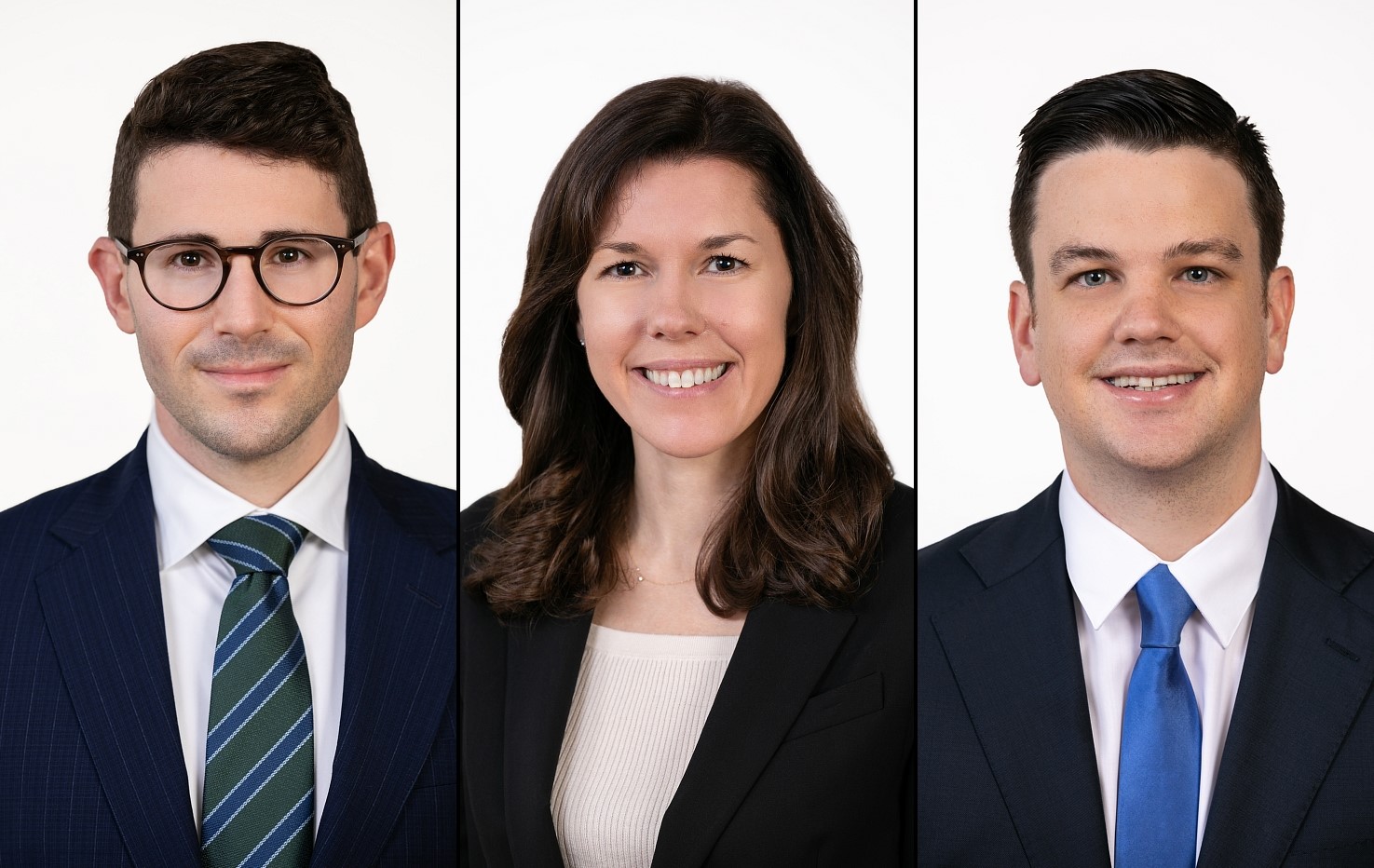 Here are some examples of outdoor/environmental shots:

TIPS FOR TAKING A GREAT HEADSHOT
Everyone has a different self-image of themselves.   When people get in front of a camera, they feel vulnerable and most people cannot stand having their photo taken.  A headshot is no different!
Sarah Merians has had several decades of experience photographing people and has shared a few tips to help guide you through your photo session.   There are a lot of things you can do and be aware of to take a great headshot.   It is our goal to capture your best angles and the most flattering portraits for you.  Enjoy these helpful tips from Sarah.
Look directly into the camera. Eye contact is essential.  Do not be intimidated.
Lowering chin, a bit is good. Your eyes will be more open as it will force you to look up more.
Do not forget to breathe!
Good posture is important. You do not want to have a curved back.  Sitting up tall helps.
Lowering your shoulders are important. You want to be calm and relaxed for the photo session.
Take photos on both sides of your face. Faces are not symmetrical.  Everyone has a better side of their face.  We suggest not just head on but different perspectives and sides for selection.
Keep head forward a bit to eliminate double chins. People tend to lower their chin but also tuck it in towards their body.  This is not good, so be aware of leaning a bit forward on your toes and/or lean in.
Keeping your jaw straight and not tilting your head will help in defining your jaw line. This is important for a great headshot.  Everyone has different shaped faces and chins.  An angular chin should never have a head tilt.  A great photographer can guide you.
Your mouth is so important for a headshot. We suggest lips parted, a big smile as well as closed lips.  Some people smile and their eyes get squinty.  A variety of facial expressions will give you different looks, and we suggest trying several expressions.  We prefer a warm smile.
Laugh and have fun in your headshot session!
Sarah in action!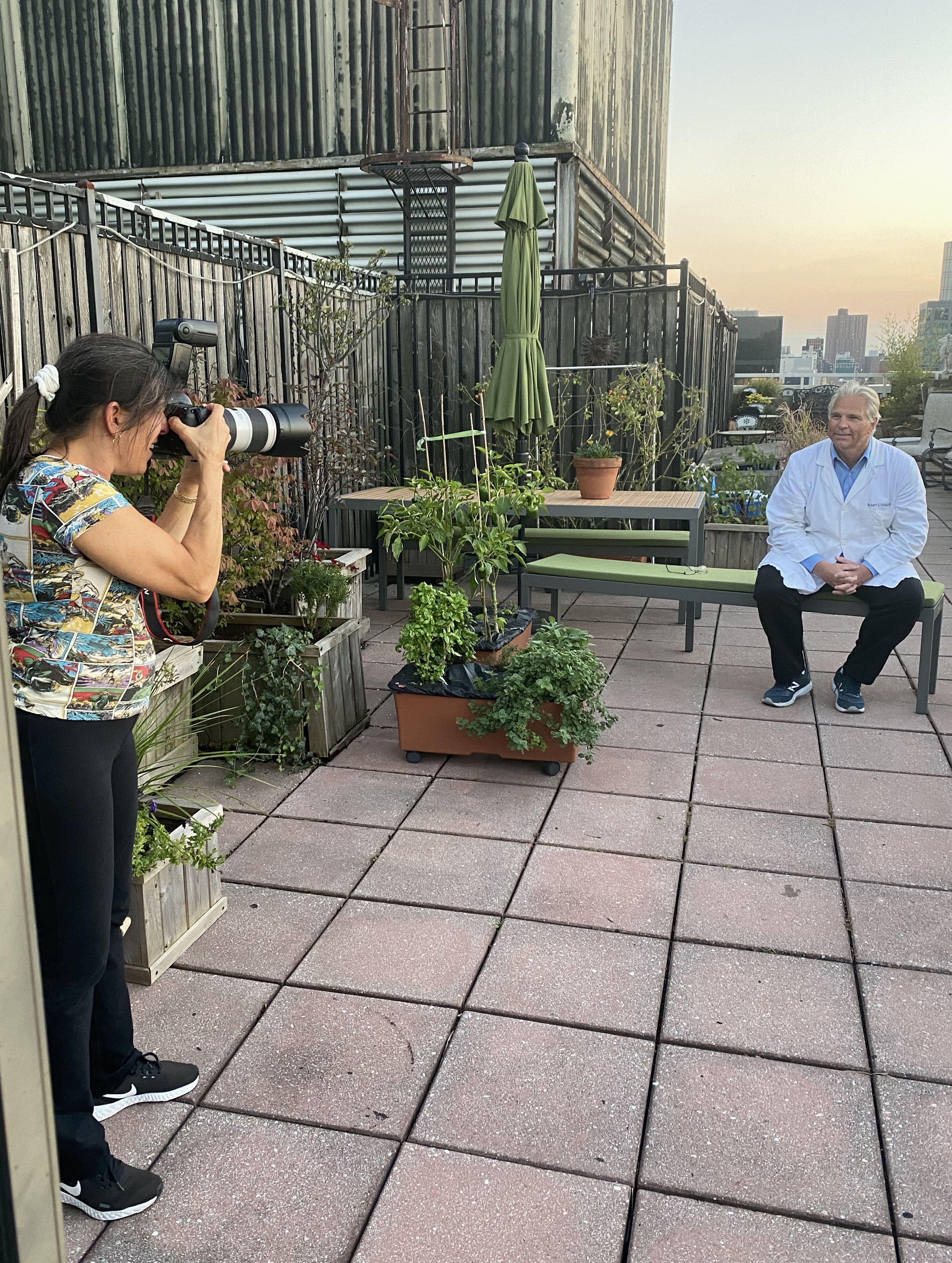 RETOUCHING
We are extremely professional, and our main goal is for you to look your very best.  As a hands-on business owner, Sarah Merians has always believed that "the devil is in the details!" and we work hard to give unrivaled quality to our clients.
After each session, we provide a viewing link from which each employee can select his/her favorites. Those images are then retouched – shiny foreheads are toned down, eyes and teeth are whitened, neck and chin lines are smoothed.  We also clean up a bit under the eyes and any fly -away hairs.  On a rare occasion we will fix the knot of a tie for men.  Remember…. the "devil is in the details" and we care.
Sometimes we will need to brighten the background (especially in studio) and can crop images according to headshot requirements.  Retouching involves the entire image not just your face and clothing.
Sarah will light you in the portrait session so that you look your best and the retouching will clean up the details, so you looked refreshed, relaxed, and professional.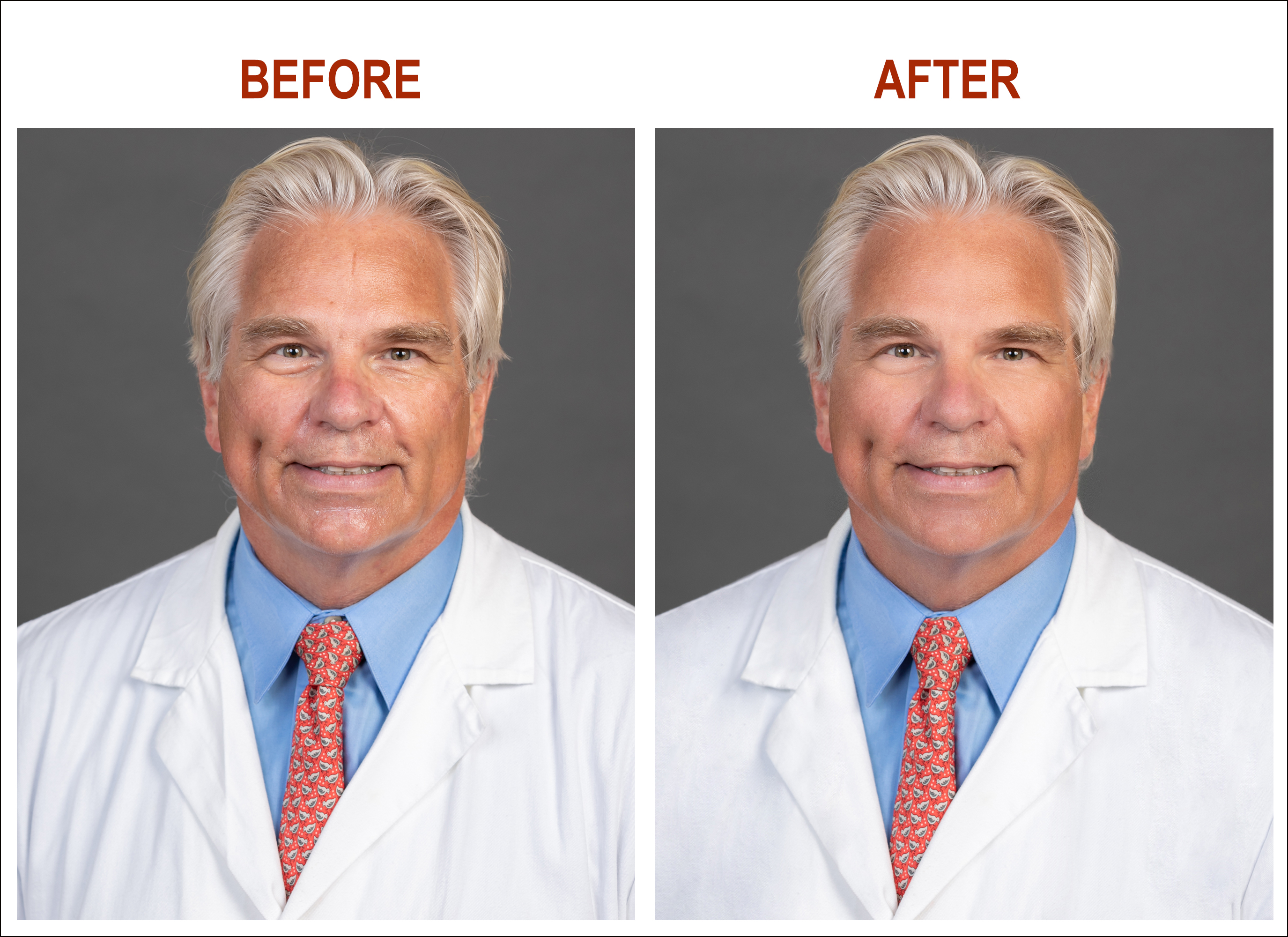 PRICING & BUDGET
We suggest that you not select your headshot photographer solely on budget.  There is the age-old expression that "you get what you pay for" and we feel this is true.
A very inexpensive headshot would make us question the safety of the studio, whether photo gets retouched or not and the experience and talent of the photographer.  We at Sarah Merians Photography have a team that produces headshots.  You will work directly with the photographer to yield the best capture, and once image is selected it is retouched and worked on to produce the best quality and results for you.  We do not have new headshots done all the time, so for this one important time we suggest spending a little more for a lot more!
COVID 19 RESTRICTIONS
We are living through some unprecedented times and, for the foreseeable future, location and space are big considerations.  The good news is that we, as professional photographers, use very large portrait lenses for professional quality and need to be 6-8 feet away from our subject anyway.
Sarah Merians wears a mask during the photo headshot session whether it is in the studio or on location.  We always wear masks and follow protocol.
We do our studio photography in a safe and clean studio.  Should these photos be taken in a work environment we will find out restrictions for your office ahead of time and abide by them.  Typically, temperature is taken, and forms are filled out prior to or upon arrival.  We have a lot of experience with this.
We are professional photographers and will continue to produce the highest quality work in the safest environment and way possible.
In conclusion… you want a headshot that will be outstanding.  A professional headshot will tell your viewers and potential customers that you are a professional and provide them a glimpse into your brand, and who you are.
TAKING IT ONE STEP FURTHER WITH EXPLAINER VIDEOS 
Did you know that people are more likely to watch a quick video than read a lengthy "about us" article on a website?  Our team of video production specialists can help you create
explainer video for your home page
promo video piece to use on social media (Facebook, Instagram, Linked in)
video advertisements
marketing pieces
We work with you on pre and post production to create a creative piece that will make you stand out among your peers. People do business with people – and videos allow you to introduce yourself to prospective clients/customers in a unique and intimate way, while making a lasting impression. People are more likely to remember you and your message when they have a dynamic visual representation of your company or product. Here is an example:
If you are interested in discussing a headshot / personal branding photo session, please reach out to [email protected]